She is the teenager daughter of Vice Principal Hiroshi Uchiyamada.
Her age is not really clear but is hinted to be around 16 years old, probably less, when the father was talking about making her a sweet gift for her sixteenth birthday.
She looks to be closer to her mom and her dog than her own dad. She tries to love him but often she only ends up thinking less of him, on the other side Hiroshi really misunderstands many things about her teenage events.
The family dog was called "Dicaprio" (from the actor Leonardo Di Caprio) but he wasn't responding to it, so she later changes the name into "Eikichi", much to her father's disappointment. And another funny thing to mention is that the dog actually looks a bit like Onizuka.
Appearence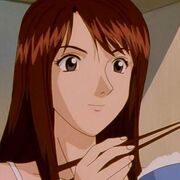 She appears like every normal teenage girl, curing her look with auburn hair and gray eyes.
Later in the manga, in volume 18, she changes her look for summer, by using an occasional hairclip on the fring and adopting an "adult twintails hairstyle" binding the tails on the bottom.
Ad blocker interference detected!
Wikia is a free-to-use site that makes money from advertising. We have a modified experience for viewers using ad blockers

Wikia is not accessible if you've made further modifications. Remove the custom ad blocker rule(s) and the page will load as expected.