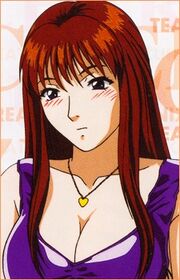 She is a student of the Holy Forest Academy and attends class 3-4.
She was born in Tokyo, Japan, on September 25th, 1985.
Tomoko Nomura has a large chest (her cup size is F), kinda over-size for her age. She's not the brightest crayon in the box, leading to people nicknaming her Toro-ko (Toro meaning "slow" in Japanese, so somehow a way to involve her clumsyness; she is called Slo-mo-ko in the English version).
She initially appears messing up (accidentally) one of Aizawa's plans to get Onizuka fired, which leads her to be kicked out from Miyabi's clique.
People often take advantage of her or make fun of her slowness and clumsiness. However, Onizuka promptly takes the girl under his protection.
Eikichi (Onizuka) makes her join a beauty contest, which she loses, however she was discovered for her talent and looks. She eventually became a model and later actress, a very much appreciated one.
She was friends with Urumi Kanzaki since childhood, and their close bond likely arose out of their opposite personalities (Tomoko is clumsy and rather docile with a heart of gold, compared to Urumi's intellect and potential to be savagely cruel).
A side-story in the manga features Tomoko and her manager, also called GTO, only it stands for Great Tomoko Oppai (Oppai meaning breasts). In it, Tomoko's manager embarks on one very madcap adventure to save her from her dubious producers.
Ad blocker interference detected!
Wikia is a free-to-use site that makes money from advertising. We have a modified experience for viewers using ad blockers

Wikia is not accessible if you've made further modifications. Remove the custom ad blocker rule(s) and the page will load as expected.