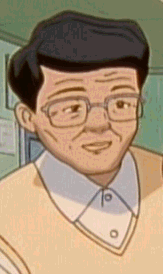 English teacher of the Seirin Academy.
Another Onizuka's workmate who doesn't like him. His English speaking is somewhat weak, made obvious by Urumi Kanzaki's public observation on his errors. In fact, since then, he's been trying to improve on his English.
Don't be fooled by his surname, because he is not married to or related to Ryoko Sakurai in any way. The last name is different in the anime because it is a way to avoid this confusion. He is actually quite married with a wife and child of his own.
Anime & Manga Differences
Manga: One of his hobbies will come into play.. allowing Aizawa to take advantage of it (via Blackmail) in her attempts to get rid of Onizuka.
Despite his crimes he keeps to be unpunished in the school.
Anime: Something he did before becoming a teacher allows Aizawa to take advantage of him (via Blackmail) in her attempts to get rid of Onizuka.
Ad blocker interference detected!
Wikia is a free-to-use site that makes money from advertising. We have a modified experience for viewers using ad blockers

Wikia is not accessible if you've made further modifications. Remove the custom ad blocker rule(s) and the page will load as expected.