She is the Chairman of the Seirin (Holy Forest) Academy.
Birthdate: 2nd august, 1951
Appearance
She is a short woman who is beginning to show signs of wrinkles on her face.
Personality
She really cares for her students and is trying any way to bring the school's situation to a better being.
An old woman with a good eye on judging people.
Background
It is stated that she was a homeroom teacher in the past, and was eventually promoted to be chairman for Holy Forest Academy. It is implied throughout the series that she has powerful connections in politics and in society, which allows her to help Onizuka in the background. She currently planning to reform the Japanese education system because it is preventing children from growing properly.
History
She first meet Onizuka as the woman working at the school's bar, but later will face him in her real shoes and will hire the man as a new teacher of the academy.
The woman will later explain to Onizuka that she likes working occasionally at the canteen, in order to see people's real selves and to judge them better.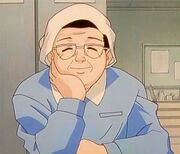 Ryoko truly trusts Onizuka, she defends and supports him in every occasion. The woman sees in him the key to solve the school's problems.
Her grandson is Mayu Wakui, another (delinquent) student enrolled in her school.
Ad blocker interference detected!
Wikia is a free-to-use site that makes money from advertising. We have a modified experience for viewers using ad blockers

Wikia is not accessible if you've made further modifications. Remove the custom ad blocker rule(s) and the page will load as expected.