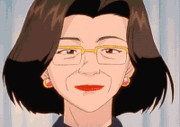 She's Anko Uehara's mom. Her first name wasn't revealed.
Mrs. Uehara is the head of PTA (Parents & Teachers Association) and will give Onizuka some hard time.
She will join the first scene after Onizuka got his revenge against Anko (and her friends) due to their behaviour towards Yoshikawa.
Using the "innocent daughter" defence, Anko manipulates her mother into getting Onizuka fired, at least she tries so.
Althought, Mrs. Uehara comes later to the truth when Kikuchi puts on a record where Anko and her friends were honestly speaking and laughing about Yoshikawa (it was kinda a composite of lies to tell the truth, since the womand doesn't know Yoshikawa's real status of his body which Anko left on him).
Ad blocker interference detected!
Wikia is a free-to-use site that makes money from advertising. We have a modified experience for viewers using ad blockers

Wikia is not accessible if you've made further modifications. Remove the custom ad blocker rule(s) and the page will load as expected.