Makoto Fuyutsuki


Character Information
Gender

Female

Age

17

Occupation

Student

Affiliation
Appearance Debut
Manga

GTO (Manga)
(Chapter 147)

List of Characters
She appears in manga only, for the first time at chapter 147 (Vol. 18) of the series.
Makoto Fuyutsuki is Azusa's younger sister, she's 17 years old and is enrolled at the Nagaoka High School.
She's the founder of her school's Detective Club and is also Judo White Belt.
In the manga version, Azusa's background is more showed.. especially the part regarding her family.
Makoto pops in when Azusa has gone missing. Unfortunately for Teshigawara, he didn't calculate family involvement into his plans of Azusa domination. Things get interesting as the serie's version of Sherlock Holmes goes into action, with Onizuka tagging along as Watson. She is very smart and sneaky.. being able to unravel the mystery of Azusa's disappearance in such a great way.
She is hinted to have a great potential in a possible future as Detective, being able to solving the problem within one volume.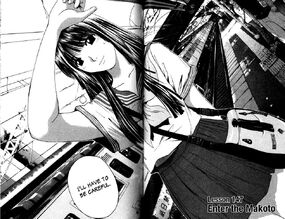 Ad blocker interference detected!
Wikia is a free-to-use site that makes money from advertising. We have a modified experience for viewers using ad blockers

Wikia is not accessible if you've made further modifications. Remove the custom ad blocker rule(s) and the page will load as expected.