Interests:  Trying to find a wife.  Apparently spends a lot of time and money doing this.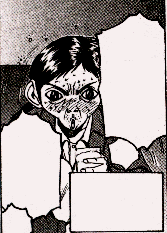 He resembles a Chihuahua and thus its his nickname.  Was a target of Kanzaki's classroom terrorism because the teacher wasn't quite aware of what was going on in the classroom.  Only dislikes Onizuka because of his disregard for the scientific equipment.  Sometimes shudders in his speech.
Ad blocker interference detected!
Wikia is a free-to-use site that makes money from advertising. We have a modified experience for viewers using ad blockers

Wikia is not accessible if you've made further modifications. Remove the custom ad blocker rule(s) and the page will load as expected.