Welcome to Great Teacher Onizuka (GTO) Wiki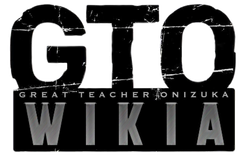 This Encyclopedia covers the manga, anime and dramas. Please feel free to contribute and edit this page as our main goal is to create a website that provides every kind of information with regards to GTO.
The wiki currently have 1,794 edits to 87 articles and 203 images on this wiki since August 08, 2009.
Overview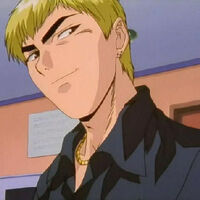 Great Teacher Onizuka (GTO) is a manga series of 25 volumes, written and drawn by Tohru Fujisawa since may 1997 until its abrupt end in April 2002. It is aimed at adults and teenagers. GTO story is based on an eccentric yet mischievous teacher who is not afraid of openly admitting he is a pervert, and one of the most dangerous ones as well. 22 years old, Eikichi Onizuka represents all what contradicts and challenges the ordinary rules and laws to which every respectable school abides. However even though he might use unconventional methods, his message always goes across.
Related Works
Bad Company is another manga from Tohru Fujisawa, it's a one-shot volume and it shows our Onizuka before he became a legend, before he became part of Oni-Baku, and before he became GTO. It's an action manga published in 1997.

Shonan Junai Gumi (english title: Shonan Pure Love Gang) is the prequel of GTO, showing Eikichi Onizuka and Ryuji Danma as teenagers facing adventures as Oni-Baku. The shonen manga has been published from 1991 to 1996 and is composed of 31 volumes.
In 2009 the manga was republished under the name of: GTO Shonan 14 Days. The spin-off illustrates what happened to Onizuka in the 14 mysterious days that followed the accident which involved the math teacher Suguru Teshigawara.
Anime, Manga And Drama Differences
The Academy where Onizuka works in, is called Seirin (Holy Forest) in the anime, while in the manga it is called Kisshō.
Endings are different but all have happy endings.
In the anime Fuyutsuki never knows about her attempted rape but in the 1999 drama she does, Onizuka foils both attempts which were both by Suguru Teshigawara.
In the 2012 drama the Director has black rather than gray hair.
In the 2012 drama some yakuza attempt to rape Miyabi Aizawa in episode 1 but in the 1999 drama this doesn't happen until much later. Onizuka foils both attempts.
In the 2012 drama Kunio Murai is seen photoshopping Onizuka's face but in the anime it was Yoshito Kikuchi who did it.
Trivia
The Seirin Academy actually does exist for real and is placed in Kichijōji, a neighborhood in the city of Musashino in Tokyo, Japan.
Poll
Which do you prefer for GTO?
Help Out
You can help us out by:

You can also use the box below to create an article:




If you need any help, please contact the local admin.
Ad blocker interference detected!
Wikia is a free-to-use site that makes money from advertising. We have a modified experience for viewers using ad blockers

Wikia is not accessible if you've made further modifications. Remove the custom ad blocker rule(s) and the page will load as expected.