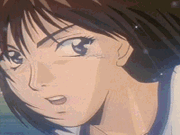 She's a very good player from Seirin's basketball team.
Before the start of the storyline of GTO, around two years ago, she had an episode where some bullies were picking on her due to her particular height, evolving the situation for the good showing Murai coming in her defence.
A really tall girl introduced as having a crush on Murai,she writes him a love letter and signs it as "F in class 2"; althought she should have specificated more, since this F leads Murai and his group to think as an initial of a last name rather than a first name and will bringing the situation towards an unwanted direction (Murai will end up thinking that F is Fujita Akane, a very popular girl in the school, and will ask Kujirakawa to help him declare his love for Akane).
Manga version only: all the above described situation happens in the manga as well, althought Akane Fujita is the anime version of Aoi Fukada from the manga (so in the manga Murai thinks that Aoi sent him the letter and he is in love with her), and Kujirajawa sets him with Fukada, but is not the one Murai thinks.
Also, Fuyumi is sensitive when people makes fun of her height.
Ad blocker interference detected!
Wikia is a free-to-use site that makes money from advertising. We have a modified experience for viewers using ad blockers

Wikia is not accessible if you've made further modifications. Remove the custom ad blocker rule(s) and the page will load as expected.